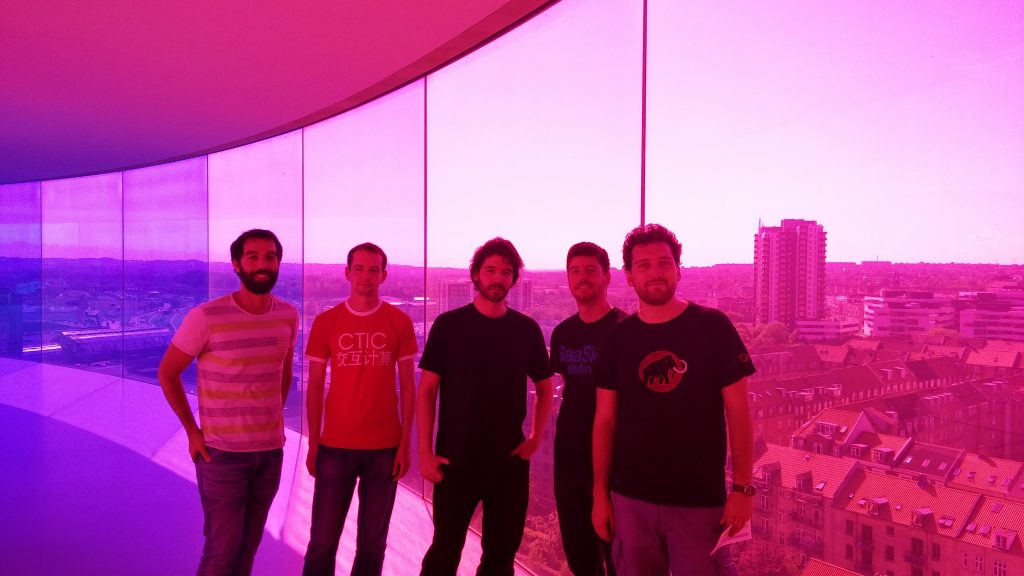 The workshop was organized by CFEM and CTIC, and took place in Aarhus from May 30 until June 3, 2016. The speakers presented both theoretical advancements and practical implementations (e.g., voting, auction systems) of MPC, as well as open problems and future directions.
The first day started with Ivan Damgård presenting TinyTable, a new simple 2-party secure computation protocol. Then Martin Hirt introduced the open problem of general adversary characterization and efficient protocol generation. The last two talks of the day discussed Efficient Constant-Round Multiparty Computation and Privacy-Preserving Outsourcing by Distributed Verifiable Computation.
The first session of the second day included two presentations on theoretical results which introduced a series of three-round secure two-party protocols and their security guarantees, and fast circuit garbling under weak assumptions. On the practical side, Rafael Pass presented formal analysis of the block-chain, and abhi shelat outlined how MPC can enable secure matchings. After the lunch break, probabilistic termination of MPC protocols and low-effort VSS protocols were discussed.
Yuval Ishai and Elette Boyle kicked off the third day by presenting constructions of function secret sharing schemes, and recent developments in the area. After the lunch break, a new hardware design enabling Verifiable ASICs was introduced and the latest progress on "oblivious memories" were discussed.
The fourth day featured presentations on RAMs, Garbled Circuits and a discussion on the computational overhead of MPC under specific adversarial models. Additionally, there was a number of presentations on practical problems, potential solutions and deployed systems. For instance, Aaron Johnson presented a system for private measurements on Tor, and Cybernetica representatives demonstrated Sharemind and their APIs. The rump session of the workshop took place in the evening, where various speakers were given at most 7 minutes to present new problems or their latest research discoveries.
On the final day, Christina Brzuska outlined the connections between different types of obfuscation and one-way functions, and explained why some obfuscators were impossible to construct. Michael Zohner spoke about OT extensions, and how they could be used to improve 2-party computation in conjunction with look-up tables. Claudio Orlandi closed the workshop with his talk on Amortised Garbled Circuits, which explained garbling tricks all the way from Yao's original work up to the state of the art, and provided a fascinating end to the week.