The release of our business whitepaper "Awareness is only the first step" was recently announced by Hewlett Packard Enterprise (HPE). The whitepaper is co-authored by HPE, UCL, and the UK government's National Technical Authority for Information Assurance (CESG). The whitepaper emphasises how a user-centred approach to security awareness can empower employees to be the strongest link in defending their organisation. As Andrzej Kawalec, HPE's Security Services CTO, notes in the press release:
"Users remain the first line of defense when faced with a dynamic and relentless threat environment."
Security communication, education, and training (CET) in organisations is intended to align employee behaviour with the security goals of the organisation. Security managers conduct regular security awareness activities – familiar vehicles for awareness programmes, such as computer-based training (CBT), can cover topics such as password use, social media practices, and phishing. However, there is limited evidence to support the effectiveness or efficiency of CBT, and a lack of reliable indicators means that it is not clear if recommended security behaviour is followed in practice. If the design and delivery of CET programmes does not consider the individual, they can't be certain of achieving the intended outcomes. As Angela Sasse comments:
"Many companies think that setting up web-based training packages are a cost-effective way of influencing staff behavior and achieving compliance, but research has provided clear evidence that this is not effective – rather, many staff resent it and suffer from 'compliance fatigue.'"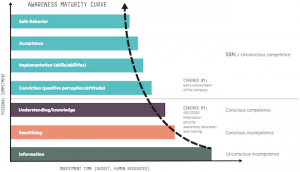 The whitepaper describes a path to guide the involvement of employees in their own security, as shown in the HPE awareness maturity curve above. To change security behaviors, a company needs to invest in the security knowledge and skills of its employees, and respond to employee needs differently at each stage.
Continue reading User-centred security awareness empowers employees to be the strongest defense