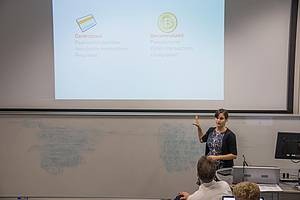 As a child, Sarah Meiklejohn thought she might become a linguist, largely because she was so strongly interested in the work being done to decode the ancient Greek writing systems Linear A and Linear B.
"I loved all that stuff," she says. "And then I started doing mathematics." At that point, with the help of Simon Singh's The Code Book, she realised the attraction was codebreaking rather than human languages themselves. Simultaneously, security and privacy were increasingly in the spotlight.
"I'm a very private person, and so privacy is near and dear to my heart," she says. "It's an important right that a lot of people don't seem interested in exercising, but it's still a right. Even if no one voted we would still agree that it was important for people to be able to vote."
It was during her undergraduate years at Brown, which included a fifth-year Masters degree, that she made the transition from mathematics to cryptography and began studying computer science. She went on to do her PhD at the University of California at San Diego. Her appointment at UCL, which is shared between the Department of Computer Science and the Department of Crime Science, is her first job.
Probably her best-known work is A Fistful of Bitcoins: Characterizing Payments Among Men with No Names (PDF), written with Marjori Pomarole, Grant Jordan, Kirill Levchenko, Damon McCoy, Geoffrey M. Voelker, and Stefan Savage and presented at USENIX 2013, which studied the question of how much anonymity bitcoin really provides.
"The main thing I was trying to focus on in that paper is what bitcoin is used for," she says. The work began with buying some bitcoin (in 2012, at about £3 each), and performing some transactions with them over a period of months. Using the data collected this way allowed her to uncover some "ground truth" data.
"We developed these clustering techniques to get down to single users and owners." The result was that they could identify which addresses belonged to which exchanges and enabled them to get a view of what was going on in the network. "So we could say this many bitcoins passed through this exchange per month, or how many were going to underground services like Silk Road."
Continue reading Sarah Meiklejohn – Security and Cryptography